Home » Archive by Author
Articles by Anne Lane Witt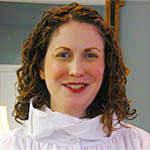 The Reverend Anne Lane Witt is an Episcopal priest in the Diocese of Virginia. She was ordained to the transitional diaconate in June 2010 and to the priesthood later that year. She is now the Assistant Rector at Grace Episcopal Church in Kilmarnock, Virginia.
Care Through Preaching: Reflections From Parish Life

By Anne Lane Witt
Parish life encompasses so many facets that a cleric can become exhausted if not grounded in faith, service to God, and care for God's people. "In my four years serving (in southern, rural) parishes, I have found that preaching, whatever the occasion, works best when it is an extension of caring for the congregation," says the author of this insightful look as to how she has creatively approached getting to know and serve elderly congregations effectively.