Home » Editorial, In Every Issue
Greetings From the Editor
Dear Friends,
On behalf of the ministry team at The Living Pulpit, I bring you greetings of peace with our first issue of 2017. These pages collectively focus upon the theme, "Peaceable Kingdom." We immediately recognize the biblical provenance of this famous parlance based on Isaiah 11. In the war-infested time in Judah, the prophet Isaiah dreams of a time when the Spirit of the Lord will reign with incredible peace. The earth will be filled with the fear—not the debilitating kind but the deep respect—of God. The violent will shed their animosity, and the meek will inhabit the breathable living space.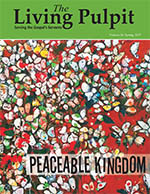 This phrase is often featured in the tradition of English Bibles, the most famous of which is found in the précis of Isaiah 11 published in the King James Bible in 1611. The precept has inspired many dreams of peace. Many of us will recall the series of paintings by the Quaker artist Edward Hicks. His portraits of the Peaceable Kingdom help us dare to imagine the very possibility of peace on earth.
In our current issue, our authors underscore that such a hope-filled vision of peace dots the pages of the Old and New Testaments and the history of the church. The believing communities have dreamed a dream of accord from early church people and medieval women and men to the immigrants in the modern metropolitan municipalities. With bountiful insights, our authors shield us from decadent despair and challenge us to build a new world actively.
The current issue also dwells on the dream of peace that persists, recalling how a century ago the world panted for peace in the midst of the Great War. Although the ardent descriptor of "the war to end all wars" has lost some of its gusto, we share its longing. Although the people who lived through World War I could not have known it, we are privileged to learn that they were not too far off from the end of the war. The pages of our journal too encourage us to face tomorrow not with fear but with hope.
I hear our authors calling for the faithful people's labor and action. The thrust is echoed in the famous Israeli song, shir la-shalom ("The Song of Peace") by Yaakov Rotblit, which is often performed in the memorials of Yitzhak Rabin. The last verse places a challenge before our generation: "Don't say that the day will come. / Make the day come!"
As if it is our daily bread, we hear a common greeting that strikes up the yearning for peace. We hold dear the Hebrew greeting of shalom and the Arabic 'as-salam 'alaykum that always finds its echo with wa-'alaykum 'as-salam. Many other cultures also feature the theme of peace in their daily salutation. We pray these prayers of peace bear their fruit every day, everywhere, and very soon.
Peace be with you all,
Jin Han
Editor in Chief